Mia-
Class Instructor/Birthday Party Hostess
Mia, a former Jean's student has now shifted her focus solely on coaching. Mia loves using her previous experience as an athlete to help her students achieve their goals and to progress. Mia's goal is for her students to be excited to come to class each week, so they can learn and improve their skills while having fun! Mia offers a fun and friendly approach to the sport and our students love her for it! Mia is USAG, Safety, CPR & First Aid Certified.​​

Danielle-
Class Instructor/Special Event Staff
​Danielle is a former Jean's gymnast and and has her BS in Health Education from WSU. Her goal is to help her students develop in to well rounded athletes both inside the gym and out. She likes to encourage her students to believe in themselves and try things that might be out of their comfort zone. Danielle's bright and cheery personality helps her students to feel like they can accomplish anything. Danielle is USAG, Safety, CPR & First Aid Certified.​

Samantha Kelley-

Director/Developmental Director/Junior Olympic Team Coach

Samantha, "Sammi", has been with Jean's for 25 years both as a student and a coach. She was a Jean's gymnast for 16 years and has been coaching for 14. Sammi was a competitive gymnast & the captain of her varsity high school gymnastics team for Marlborough High. The best part of coaching for her is seeing the progress each of her gymnasts make as they continue with the sport. She has an upbeat, positive attitude and loves working with children. Sammi is USAG, Safety, CPR & First Aid certified.​Type your paragraph here.
Abby-
Class Instructor/Birthday Party Hostess
Abby is currently a team athlete at Jean's gymnastics and completed our C.I.T. program this summer. She enjoys working with children and is excited to have the opportunity to use her experience as an athlete to help her students achieve their goals. Abby has a calm and patient way about her and connects well with her students. Abby is USAG, Safety, CPR & First Aid Certified.

​

Amanda Frederickson-

Owner/Team Director/Junior Olympic Coach

Amanda is the VERY proud owner of Jean's gymnastics. She grew up with a love for gymnastics and was a competitive gymnast for many years. She always knew that she wanted to turn her passion for gymnastics into a career. Amanda has a great enthusiasm that our gymnasts really feed off of. She loves presenting new challenges for our students and seeing them succeed. Amanda drives our gymnasts to be the best they can be at any level of the sport. Amanda is USAG, Safety, CPR & First Aid certified.
​
Stacey-
Xcel Team Coach/Class Instructor
Stacey is a former student & coach of Jean's Gymnastics, and has 2 daughters that are in our program as well. After watching from the waiting room for a few years, she decided that she wanted to get back in the gym and join in all the fun. Her calm and patient teaching style is a perfect fit for all of our students, and her genuine care and enthusiasm for the success of our athletes is off the charts! Stacey is an RN, USAG, Safety, CPR & First Aid Certified.

​Taylor-
Recreational Program Manager/Event Coordinator
Taylor has been a great addition to Jean's Gymnastics. Her bubbly, enthusiastic attitude makes her a student favorite, and her creativity makes our recreational program the fun and challenging program it is today! Taylor participated in gymnastics as a child & has always loved the sport. She loves seeing her students succeed, and enjoys helping them reach their goals whenever possible! Taylor is USAG, Safety, CPR & First Aid Certified.

Jessica-
Xcel Team Coordinator/Coach/Class Instructor
Jessica was a Jean's Gymnast for 9 years and was a level 8 on our Junior Olympic team. This is her 9th year coaching at Jean's and has a wealth of knowledge and first hand experience to share with our rising stars. She is a hard working, and positive role model for her students to look up to. Jess is currently studying Nursing at Northeastern University. Jess is USAG, Safety, CPR & First Aid certified.

Carly-
Class Instructor/Birthday Party Hostess
Miss Carly has over 10 years of experience with gymnastics, and enjoys sharing her knowledge of the sport with her students. She offers an enthusiastic and encouraging approach to her students, and hopes that they learn something new each class, and leave with a better sense of confidence in themselves.
Carly is USAG, Safety, CPR & First Aid Certified.

Ravyn-
​Class Instructor/Birthday Party Hostess
Miss Ravyn has experience as a former gymnast and current cheerleader. She loves helping her students feel successful and proud of themselves, and is always willing to offer a "high five" and a smile to everyone. She likes using her experience to better help her athletes understand their skills and progressions. Ravyn is USAG, Safety, CPR & First Aid Certified and is currently studying nursing at MCPHS

Gymnastics classes for kids where they can

LEARN, SUCCEED, & ACHIEVE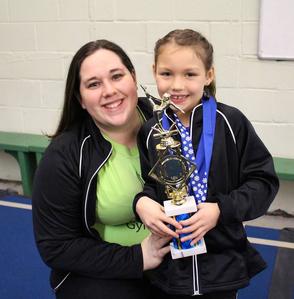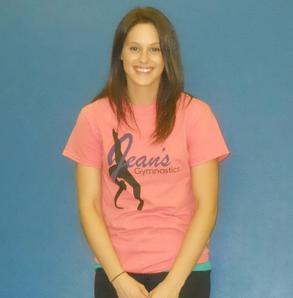 Jean's Gymnastics is dedicated to the development of happy, healthy & confident children. We truly believe that gymnastics is a strong foundation for any child's life. Our talented & certified instructors paired with our dynamic programs strive to provide your child with a safe & fun environment to learn in, all while further developing their confidence & self esteem.